How to Wear Clogs • budget FASHIONISTA
Stella McCartney, Chloe, Bottega Veneta, and Bruno Cucinelli will have you spend hundreds on a pair of clogs this season. Too bad your shoe purchase does not come with a manual on how to wear clogs. While the clog trend is hot, the clunky shoe style isn't exactly easy to wear.
The main wearability issue is that clogs add bulk to your lower half. To wear them successfully, you need to balance out that bulk — which can require more thought than reaching for garments on the top of the clean laundry pile.
But that's a fashion challenge you can handle. Read on for a guide to styling clogs, plus seven clog outfit ideas, and clog style FAQs. And, just for fun, I'll also share how clogs first became a fashion statement.
Guide: How to wear clogs
Before clogs were trending, there were two types of clog wearers:
First were the people who needed a comfortable shoe due to plantar fasciitis and other foot problems. Dansko clogs in particular are gentle on the feet, which is why you'll see nurses wearing them.
Second were the fashion superfans who remember the 2010 Chanels that rocketed the clog style into stardom (more on that below).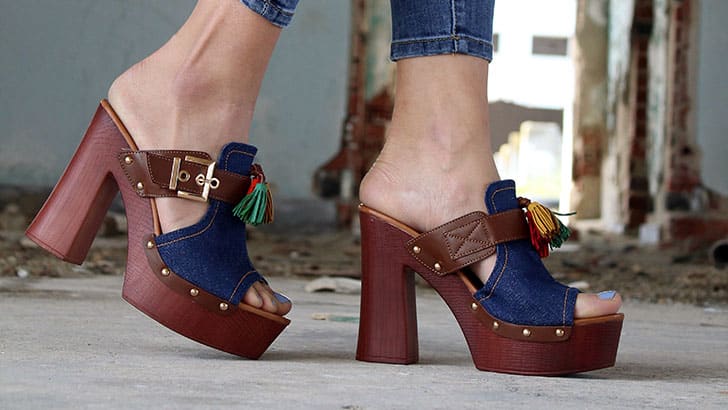 Now that clogs are toeing their way into mainstream fashion, it's easier for more moderate fashionistas to experiment with the style. But, as noted, there's the challenge of balancing out the shoe's bulk. Miss the mark there and you may feel like an extra on That '70s Show.
So how do you achieve that balance? There are three steps here:
Choose another piece that is visually bold or has a flared shape.
Accentuate your waist.
Bare your ankles.
Let's talk about each.
Tip 1: Choose another piece that's visually bold or has a flared shape
Some chic ideas here include:
Colorful scarf
Bold earrings plus an updo
Play up your best feature with dramatic makeup, as in a smokey eye or fire engine red lip
A-line skirt or dress. Keep the hemline on the shorter side.
Cropped jacket or blazer with stylish embellishments
Long-sleeved crop top
Drapey or bright top
Tip 2: Accentuate your waist
Highlighting your waist helps you avoid the problem of being bulky all over. A wide-leg pant with a baggy top and chunky shoes creates the shape of a large oak tree. That's not a great look on anyone. The fix? Add a belt to the mix and you're suddenly an hourglass.
Waist-accentuating tactics include:
Wear a belt. Experiment with thick and thin styles to see which suits you better. Do the same with patterned belts and solid colors.
Wear pieces with hemlines that fall at your waist — cropped tops and jackets. Team with high-waisted bottoms.
Tip 3. Bare your ankles
Baring skin above your shoe is another shape-defining strategy. Plus, the separation between your clothes and footwear will show off your stylish shoes. If you're going to wear a trendy leather clog, you want onlookers to see it, right?
Achieve bare ankles with cropped pants, rolled cuffs, or (more obviously) midi-length or shorter hemlines.
Note that longer hemlines often work better with sandal-style or heeled clogs. If your clog is classic or very chunky, you'll want to show more leg.
7 clog outfit ideas
1. Clogs with a flowy blouse and distressed denim
Distressed jeans look great with clogs. You can reach for a frayed hemline, cropped jean, or a boyfriend jean with rolled cuffs. Any of these options look amazing with mule clogs. Try your skinny jeans with clog sandals.
@kasirae shows us how it's done. Her top may be neutral in color, but it has style in all the right places. To keep it her waist from disappearing, she uses a tiny tuck at the front.
2. Clogs with a floral midi dress
An easy way to style clogs is with a lightweight, floral midi dress. The breeziness of the dress is a nice contrast to the weighty, edgy clog.
3. Clogs in lieu of an ankle boot
Try subbing clogs in on the outfits you'd normally wear with ankle boots. On lazy days, for example, pair clogs with jeans and a cute t-shirt. If it's cold, top that look with your favorite moto jacket.
That outfit may end up being your go-to street style ensemble. Add big sunglasses and messy hair and someone might think you're an off-duty model — especially if you choose a bolder shoe, like a bright red clog or platform clog.
4. Clogs with cropped trouser
When you need a more sophisticated outfit, wear your clogs with cropped, straight-leg trousers. Finish the look with a simple, tucked-in top and belt.
5. Clogs with an A-line skirt and tights
On the days you're feeling playful, add a pair of clogs to an A-line skirt, tights, and blouse. With this outfit, bold colors have a more youthful vibe. If you'd rather downplay the schoolgirl feel, choose darker, neutral colors like gray, brown, and navy blue.
6. Clogs with shorts
Shorts and clogs are a thing! That's good news for us low-maintenance fashionistas, too. Clogs with shorts make for a comfortable and easy outfit that's also very stylish.
Start with black clogs, add in denim shorts and a tidy t-shirt or button-down top. Complete the outfit with a structured, waist-length blazer or leather jacket.
7. Clogs with a sweater dress
Here's another casual weekend outfit that's also quite polished — anchor your favorite brown-toned sweater dress with a pair of classic clogs. The soft knit of the sweater contrasts nicely with the wood and weight of the shoe.
Clog style FAQs
Still wondering how to wear clogs? It's OK. You're not alone. There are some questions that pop up routinely about styling clogs. Here are the ones I hear most often.
1. Should I wear socks with clogs?
You can wear socks with clogs. This is a high risk, high reward fashion strategy, though. The look can either catapult you into fashion queen status amongst your social group. Or, clogs with socks can simply look sloppy. To achieve the fashion-queen status effect, keep the rest of your outfit tidy and structured. Go for the cropped blazer, belt, tucked-in top, etc. Avoid long cardigans or oversized silhouettes.
2. Can I wear clogs in the summer?
Yes, you can wear clogs in the summer. A sandal style will be more comfortable than a classic wooden clog. Pair your clog sandal with shorts or a pretty floral skirt.
3. How to wear clogs to work?
Mule clogs teamed with a cropped trouser, belt, and tucked-in, soft knit sweater makes for a polished work outfit.
4. Can I wear clogs without socks?
You can wear clogs without socks, especially mules and sandals. You might invest in some deodorant powder to keep your trendy shoes fresh.
5. Can you wear clogs with leggings?
A modern clog can look amazing with leggings. Try black clogs teamed with black leggings as your starting point.
For fun: How clogs became a fashion statement
The dictionary defines a clog as a shoe with a thick wooden sole. In practice, a clog is usually backless and has a platform-type sole. The style traces back to 14th century Scandinavia — for centuries thereafter, peasants and the working class chose clogs for comfort and protection.
The clunky wooden shoe didn't become a fashion piece, though, until the 20th century. Wikipedia reports that clogs began their rise in the '70s and '80s, when both men and women starting wearing them — thanks to the wildly popular Swedish pop group ABBA.
2007 Viktor & Rolf Ready-to-Wear
Clogs stepped into the fashion spotlight when they appeared in Viktor & Rolf's 2007 Ready-to-Wear collection. These designs featured bright colors and intricate patterns. My guess is they would have stolen the show, if the models had not also been wearing metal frames and spotlights.
Chanel SS 2010
The quirky shoe got another prominent designer endorsement in 2010. Chanel's 2010 SS designers were anchored by modern clogs with platform heels, thick buckles and metal stud details. This style has since been copied by the masses, to the point where used to find cheap versions at Payless every spring.